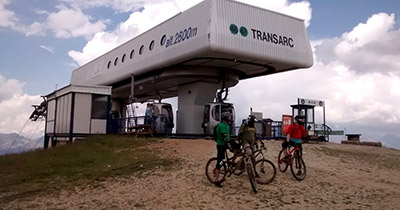 Paradiski is now one of the worlds largest biking areas consisting of Peisey-Vallandry, Les Arcs and La Plagne. The Vanoise Express links La Plagne to Peisey-Vallandry and is open in the summer months for bikers who want to use some or all of the resort.
What is known as "Les Arcs Bike Park", in partnership with Kona, is the whole domain; a huge FFTC approved area for bikers which is accessible to all abilities and all types of riding including Downhill, Enduro, and Cross Country.
It is open from beginning of July until the end of August.
With 2,600 metres of vertical decent there are 180 kilometres of marked trails.
Routes are reachable for every level, thanks to 20 chair lifts, which are adapted to hold bikes.  There are 22 runs including 8 Downhill, 5 Enduros, 3 Cross Country and 6 connecting runs.
The runs include: 5 green runs, 8 blue runs, 6 red runs and 3 black runs.
There are practice parks and a freestyle area in Arc 1600.  There are 2 aerial courses in the forest made up of aerial gantries, a Slopestyle with linked obstacles that are more or less aerial and 4 cross-country natural courses made up of jumps and banked corners.
Route 66 is a blue Enduro run is one of the longest runs in the world at 34km.
The Woodstock run is a blue Downhill run with banked corners in the forest, a treat for both lower levels and experienced riders alike.
Look out for the Mountain Biking topographical guide, free with all mountain bike passes. It show all the trails in detail, IGN maps, photos and descriptions of the runs in Paradiski.
Take a look at the trail map here www.lesarcs.com
Mountain bike tours and adventures
www.tarentaise-tours.com/downhill-mountain-day
When biking please take all your rubbish with you.