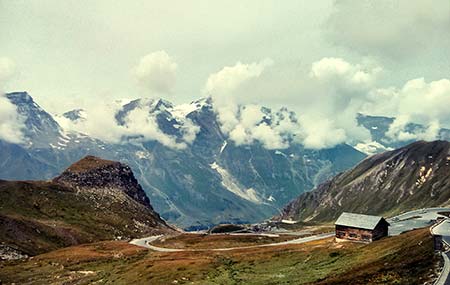 The Route des Grandes Alpes by bike is an experience in itself.
Also known as the Great Alpine Road, the Route des Grandes Alpes consists of winding mountain roads with amazing landscapes, stretching 684km from Thonon-les-Bains at Lake Geneva to Menton, at the shores of the Mediterranean.
The route includes 16 passes that are some of the highest in the Alps. Five of them are over 2,000 meters above sea level. The highest points are the Col de la Bonette (2,802 m), the Col de l'Iseran (2,770 m) and the Col du Galibier (2,645 m).
What is a Col?
The lowest point of a ridge or saddle between two peaks, usually meaning there is a pass from one side of a mountain range to another.
About Route des Grandes Alpes
Route des Grandes Alpes is open after the snow melt between June and October. Be sure to check that your route is open before you set off. Snow can stick around until June. Check the Cols are open on the InfoTrafic website.
Follow the route through the national and regional parks of the Chablais, Vanoise, Queyras, Ubaye and Mercantour. On the way you will see the unmistakable symbols of the French Alps: Mont Blanc and Les Ecrins.
Discover the forts dating from the 16th to the 20th century, mostly located along the French-Italian border.
Route des Grandes Alpes incorporates several sections of the Tour de France, including the passes: Aravis, Cormet de Roselend, Iseran, Galibier, Izoard, Bonette and Cayolle. Those who make it to the end will be awared with the Borne d'Or diploma.
Please plan carefully for your trip. This post is for information only. 
Sections of Route des Grandes Alpes by bike
Thonon-les-Bains to Saint-Jean-de-Sixt, 7h00 : 91k
Saint-Jean-de-Sixt to Beaufort, 3h30 : 51k
Beaufort to Bourg-Saint-Maurice, 3h30 : 42k
Bourg-Saint-Maurice to Lanslevillard, 6h00 : 77k
Lanslevillard to Saint-Michel-de-Maurienne, 2h30 : 43k
Saint-Michel-de-Maurienne to Col du Lautaret, 3h40 : 43k
Col du Lautaret to Briançon, 1h30 : 28k
Briançon to Guillestre, 3h20 : 49k
Guillestre to Jausiers, 2h30 : 40k
Jausiers to Barcelonnette, 1h00 : 8k
Barcelonnette to Guillaumes, 5h20 : 60k
Guillaumes to Saint-Sauveur-sur-Tinée, 3h00 : 42k
Saint-Sauveur-sur-Tinée to Sospel, 6h00 : 80k
Sospel to Nice, 3h : 50k
The official Route des Grandes Alpes website Move your Alps offers helpful information and advice.